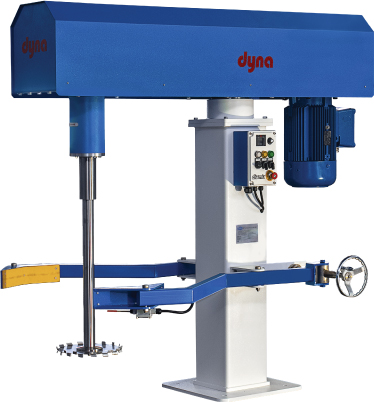 High Speed Dissolver
DMB-1300ECL-20; DMB-1300ECL-30; DMB-1300ECL-40; DMB-1300ECL-50; DMB-1300ECL-60
Disperding gear shaft can be lifted and lowered with the pneumatic or hydraulic built in system.
Safety cut-out switch built into the column with adjustable high to match the container height in order to ensure the mixing unit cannot match the container edge during operation.
Dispersing gear shaft and the main parts are made of stainless steel.
Designed for premium quality to guarantee a long life span and reliable everday performance.
Runs stable with low noise.
Variable speed control for flexible operation.
Suitable for different viscosity of the mixed materials.
Spreading blade can be adjusted to any materials requiremets to prevent materials from drifting outside container.
Built in inverter/Frequency conversion.
With option – Our selected electronic component and motors is specifically complies for hazardous location, containing any sparks within the motor or electronic component without igniting external.
Lid in stainless steel cover is optional.
Dissolver clamp is optional.
It designed for dispersion and pre-mixing in mobile containers.
Supplying dissolver with or without a container-fastening device according to customer's need.
Supply dissolver machine ranging from 20HP to 60HP with the lifting height of 1300mm.
Production capacity up to 2000 litres per batch is achievable.
Fully-Explosion Proof (E)
Dissolver Clamp (C)
Lid (L)
Model

DMB-1300-20

DMB-1300-30

DMB-1300-40

DMB-1300-50

DMB-1300-60

Main Motor

HP

20

30

40

50

60

Speed

RPM

0 – 1500

Capacity

ltr

300 – 1500

500 – 2000

Lifting Height

mm

1300

Dimension (L/W/H)

mm

2170 x 600 x 2110
If you have any Query or Order?