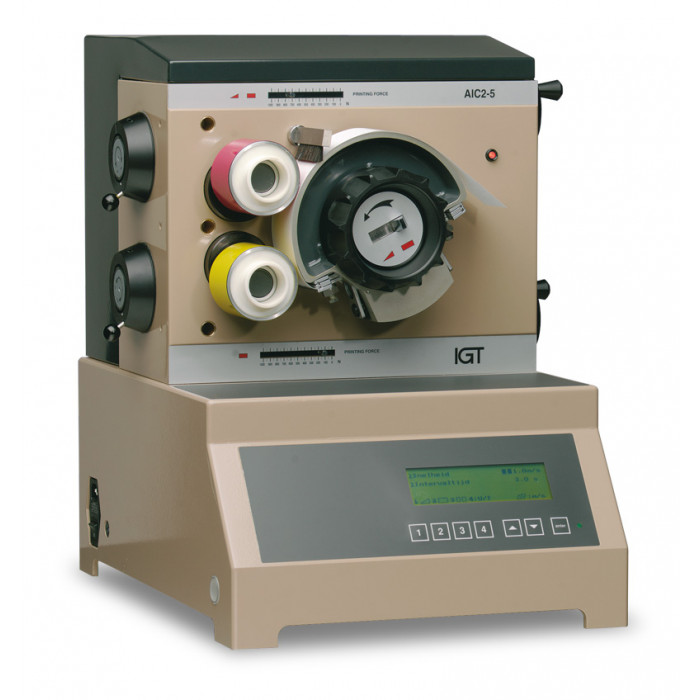 AIC2-5T2000
Article number: 710.000.000
AIC2-5T2000: Multi-purpose printability tester with dual print shaft
IGT Testing Systems has for many decades been supplying the well-known AIC2-5 printability tester for making numerous tests on different substrates and inks in quality control and research.
•Tests small quantities of ink and substrate in conditions simulating actual practice.
•Makes colour strips with various inks on different substrates, which can be used for numerous purposes.
•Saves costs because many tests do not need to be made on the printing presses.
•High repeatability and reproducibility
•Simple to operate
•Extensive range of accessories
•Large range of possible tests
•Consistent results
•The original ISO 3783 compliant pick tester
APPLICATIONS
The test strips made on the AIC2-5 printability tester are suitable for many purposes:
•measuring colour with colour measuring systems/spectrophotometers
•use in colour matching systems
•visual appraisal
•density measurements, including establishing tolerances
•determination of coverage, scratch resistance, wear resistance, flexibility, adhesion and gloss, ink transfer (in g/m2), light fastness and resistance to chemicals
•testing of printing quality, picking, wet pick and wet repellence, roughness, print penetration, Heliotest, set-off, striking through, mottle, loose and weakly bound paper articles
The AIC2-5 tester prints on different materials like paper, board, plastic film, cellophane, laminate, metal, etc. The AIC2-5 tester is used in the following industries:
•printing ink, paper and board, printers
•metal, plastic and packaging industries
•resin, lacquer and coating industries
•raw material industry
•training centres
PROPERTIES
Sturdy construction for intensive use over a long period; easy and quick to clean many accessories available for a very wide range of processing possibilities for various substrates and offset, gravure and flexo inks; substrate, ink and printing form are simple and quick to change reproducibility is extremely good, high degree of simulation of actual practice.
Dual printing shaft, constant speed, accellerating speed, large range of accessories for different tests.
Printing speed
constant 0.2 – 5 m/s
increasing 0.5 – 7 m/s
•Printing force: 50 – 1000 N
•Extra interval time: 0.2-120 s, resolution of 0.1 s
•Two printing discs maximum
Printing discs
•Printing width: 10, 20, 35 and 50 mm
•Printing length : 200 mm
Sorts:
•Rubber for conventional inks
•Rubber blanket for conventional inks
•Rubber for UV-curing inks
•Rubber blanket for UV-curing inks
•Aluminium
General
•Inking and printing separated
•Many accessories available
•Simple operation
•Reliable
•Low initial cost
•Processing of many substrates and inks possible
•Easy to move
•Detailed instructions for use
Weight : 100 kg
Size: 49 x 47 x 58 cm
Electrical rating: 115/230 V – 50/60 Hz
The fastest and best results are achieved in combination with the IGT High Speed Inking Unit 4.
Weight:
100kg
Dimensions(L x W x H):
49cm x 47cm x 58cm
Model:
710.000.000
Main application:
Pick testing
Heliotest
gravure printing
Density
Colour and transparency
Print penetration
Mottle test
Set-off test
Toner adhesion
Conformance with standards/W-leaflet:
ISO 3783-2006, ISO 2834, ISO 2836, ISO 2846, NEN 1836, NEN 1839, EN 12283, ASTM D7680,
Water bath and temperature:
—
Speed range and modes:
Constant: 0.2 – 5.0 m/s, Accelerating endspeed: 0.5 – 7.0 m/s
Forces:
100 – 1000 N
Substrate requirements:
Flexible substrates
Interval time and number:
0.014 – 60 s
Printing shafts type and options:
2 print shafts
Shaft positioning:
Manually
Lifting system:
Manually
Print length and width:
200 x 50 mm2, overprint 270×50 mm
Printing discs:
Aluminium
rubber blanket
rubber
Heliotest
Gravure
discs for specific test
Sector positioning:
Manually
Sector type and options:
180° sector with clamps
Doctoring system:
With accessories at print shaft 1
Dispensing system:
—
Pre-programmed tests:
—
Analysis options:
Via external software PrintTarget
Interfaces:
—
Software updates:
—
Data export options:
—
Additional items:
466.000.000 High Speed Inking Unit 4
408.000.200 IGT ink Pipette 0.01 ml resolution
408.000.400 IGT ink Pipette 0.001 ml resolution
441.000 Pick Start Viewer PSV
441.000.040 Delamination/Blistering viewer
Accessories:
450.100.710 Heliotest set
431.000.710 Gravure set
441.000.710 IGT Pick Test set
428.000.710 Loose and weakly bound particles/ Fluff test set
413.000.710 Westvaco Pick set
413.000.710.006 Intaglio set
different printing discs for several applications
Inks or liquids:
Pick test oils, pick inks, penetration liquid, roughness liquid, setting ink, mottling ink, density ink,
Inking speeds:
—
Inking programs:
—
Top rollers:
—
Maintenance:
Yearly. The annual maintenance and calibration of the tester can be carried out by IGT Testing Systems or companies authorized by IGT Testing Systems. Information can be obtained from your supplier or the local agent.
Compatible instruments:
414.000.000 AIC2-5
412.000.000 Global Standard Tester 2
710.000.000 AIC2-5T2000
722.000.000 Amsterdam 2
725.000.000 Amsterdam 5
726.000.000 Amsterdam 6
Measurement range:
—
Light source/ power/angle:
—
Volume:
—
Shelf life:
—
Use life:
—
Description of property:
—
Cleaning:
—
Power Supply Requirements:
115 V 50/60 Hz or 230 V 50/60 Hz
Guarantee:
Standard one year
Space requirements:
0.7 m²
Standard delivery time:
10-12 weeks
If you have any Query or Order?