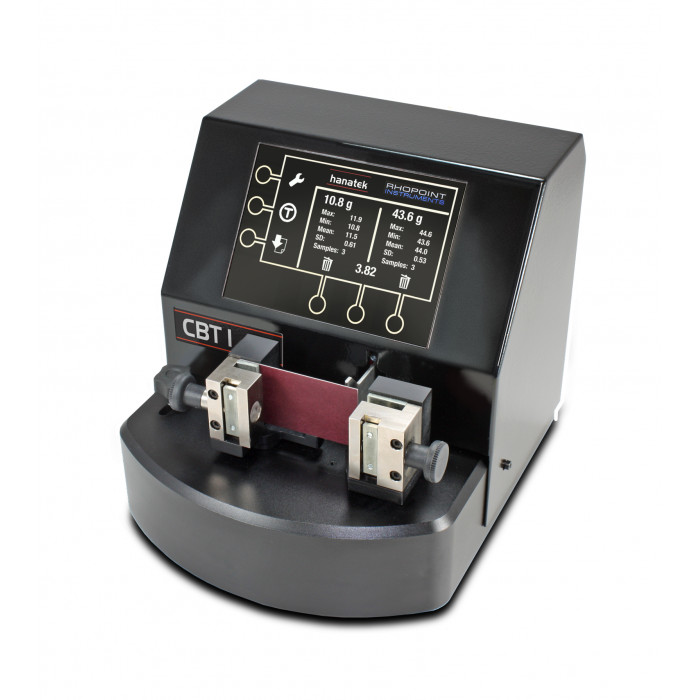 Crease & Board Stiffness Tester
Article number: 547.000.100
The Crease & Board Stiffness Tester gives board manufacturers, printers and packing companies the ability to predict the 'runability' of a sample board or finished carton before committing valuable
materials or machine time.
Board Stiffness and Crease Recovery are key characteristics that affect the running performance of cartons on high speed packaging machines.
Independently operated jaws are rotated through pre-defined angles, 90º for crease recovery and 15º for board stiffness.
AUTOMATIC DWELL TIME
15 second measurement delay to eliminate operator variability (according to BS 6965).
AUTOMATICALLY CALCULATES STIFFNESS / CREASE RATIO
Results calculated and displayed instantly on screen.
No additional software is required for data analysis .
BS 6965 advises that optimum running cartons should have a ratio between 1.5 and 3 (machine direction) and 3 and 7 (cross direction).
AUTOMATIC CALCULATION OF STATISTICS
Full statistics are displayed for both crease recovery and board stiffness.
| | |
| --- | --- |
| Weight: | 8kg |
| Dimensions(L x W x H): | 23cm x 18cm x 25cm |
| Model: | 547.000.100 |
| Standard delivery time: | 6-8 weeks |
If you have any Query or Order?