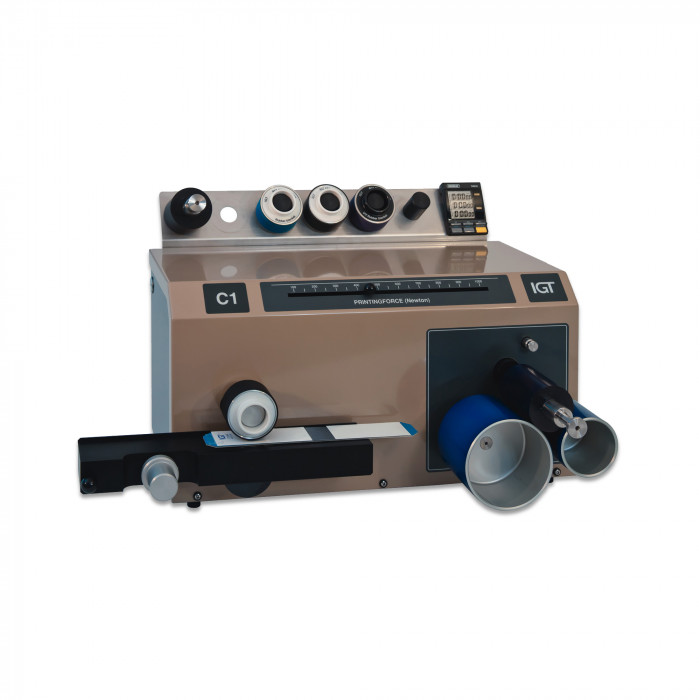 C1
Article number: 425.000.000
IGT C1: Printability tester to produce colour prints with conventional and UV offset inks
Dedicated tester to produce colour prints of conventional and UV offset inks. Available in versions with print width of 35, 50 and 70 mm and with multiple prints on one substrate. An adapter is available to print directly on metal cans or tubes or the special version CT-1 can print on any diameter of tubes and cans from inner diameter 16 mm up to outer diameter 68 mm.
World-wide the best printability tester for offset inks.
IGT Testing Systems supplies the C1 type printability testers, which are simple but very successful all over the world for offset inks in various printing widths.
Makes colour strips with offset inks with a known ink layer thickness which can be used for many purposes.
Specially designed for computerized colour measuring and colour matching systems.
Saves costs because colour tests on the printing presses are no longer necessary.
Can print directly on all substrates including ready tubes or cans, version CT-1 can do this on any diameter between 16 and 68 mm..
APPLICATIONS
The C1 printability testers produce colour strips which are suitable for many purposes, such as:
Measuring colour with colour measuring systems/spectrophotometers e.g. in colour matching
Visual appraisal
Density measurements, including establishing colour and density tolerances and determination of coverage, wear resistance, scratch resistance, flexibility, adhesion and gloss, ink transfer (in g/m2), light fastness and resistance to chemicals
Testing printing quality, gloss, mottle and set-off
The C1 tester prints all sorts of coated and uncoated materials like paper, board, plastic film, cellophane, laminate, metal, etc.
•The C1 tester is used in the following industries:
•printing ink, paper and board, printers
•metal, plastics and packaging
•resins, lacquers and coatings
•raw materials
OPERATION
The C1 type printability testers consist of an inking section and a printing section with removable printing disc (printing form). The inking unit consists of two aluminium drums and a top roller.
The distribution of the ink only takes 30 s due to the diameter ratio and the drum movement. The inking time of the printing disc is 15 s.
Cleaning the systems is very simple and quick, due, among other things, to the fact that both aluminium drums are driven. The printing unit consists of the printing form and an impression cylinder. The substrate is attached to a substrate carrier. The substrate carrier with the substrate is then placed on the substrate guide, between the impression cylinder and the printing disc.
After the printing force has been applied, the print is made automatically. The printing disc is then lifted automatically, after which the substrate is removed for appraisal and the printing disc is cleaned. It is also possible to print on drink cans: for this purpose they are slid on the impression cylinder, the substrate carrier not being used in this case.
The printing force can be set in 19 steps between 100 and 1000 N.
For printing on drink cans, the impression cylinder can be replaced with one of a different diameter.
Makes prints of 35 mm width. The inking unit consists of two driven aluminium drums and a top roller. The distribution of the ink only takes about 30 seconds thanks to the diameter ratio and the oscillating drum movement. The inking time of the printing disc is about 15 seconds. The occillating drums makes cleaning fast and easy. Printing form is automatically brought under pressure, printed and lifted.
•Inking time: inking section 45 s and printing disc 15 s
•Three roller system
•Both aluminium drums driven
•Low initial costs
•Area 700 cm2
•Rigid construction, can be used in a production environment
•Rubber rollers for conventional or UV-curing inks
•CE compliant
•Size: 600 x 500 x 300 mm
•Electrical specs: 100-240V/50-60Hz
Weight:
35kg
Dimensions(L x W x H):
0cm x 0cm x 0cm
Model:
425.000.000
Main application:
Measuring colour with colour measuring systems
spectrophotometersvisual appraisaldensity measurements
including establishing tolerancesdetermination of coverage
scratch resistance
wear resistance
flexibility
adhesion and gloss
ink transfer (in g
Conformance with standards/W-leaflet:
ISO 2834, ISO 2846, ISO 12647 and ASTM 7680
Water bath and temperature:
—
Speed range and modes:
Constant : 0.3 m/s
Forces:
100 – 1000 N
Substrate requirements:
Can print on all types of coated and uncoated materials:Paper, board, plastic film, cellophane, laminate, metals, etc.
Interval time and number:
—
Printing shafts type and options:
1 printshaft
Shaft positioning:
—
Lifting system:
—
Print length and width:
200 x 35 mm_
Printing discs:
Standard delivered with lightweight rubber 35 mm printing disc . Other available discs are aluminium
rubber blanket
rubber for conventional or UV inks.
Sector positioning:
—
Sector type and options:
—
Doctoring system:
—
Dispensing system:
—
Pre-programmed tests:
—
Analysis options:
—
Interfaces:
—
Software updates:
—
Data export options:
—
Additional items:
408.000.200 IGT ink Pipette 0.01 ml resolution
496.000.075 UV Dryer Aktiprint mini 12-1
1 lamp
500 W
496.000.275 UV Dryer Aktiprint mini 12-1
2 lamps
1000 W
495 Lightbooth with 4 lightsources (A
UV
D65
F10)
555.000.060 IGT Glossmeter G60 (60
Accessories:
Gloss set W71
Mottle set Back trap method W57
Mottle set Print Method W58
standard inks
Inks or liquids:
—
Inking speeds:
—
Inking programs:
—
Top rollers:
Rubber for conventional inks, rubber for UV-inks
Maintenance:
For average use a service check once a year is recommended. The annual maintenance and calibration of the tester can be carried out by IGT Testing Systems or companies authorized by IGT Testing Systems. Information can be obtained from your supplier.
Compatible instruments:
426.000.000 C1-5
Measurement range:
0.5 – 2.0
Light source/ power/angle:
—
Volume:
—
Shelf life:
—
Use life:
—
Description of property:
—
Power Supply Requirements:
100
Guarantee:
Standard one year
Space requirements:
0.7 m_
Standard delivery time:
4-6 weeks
If you have any Query or Order?