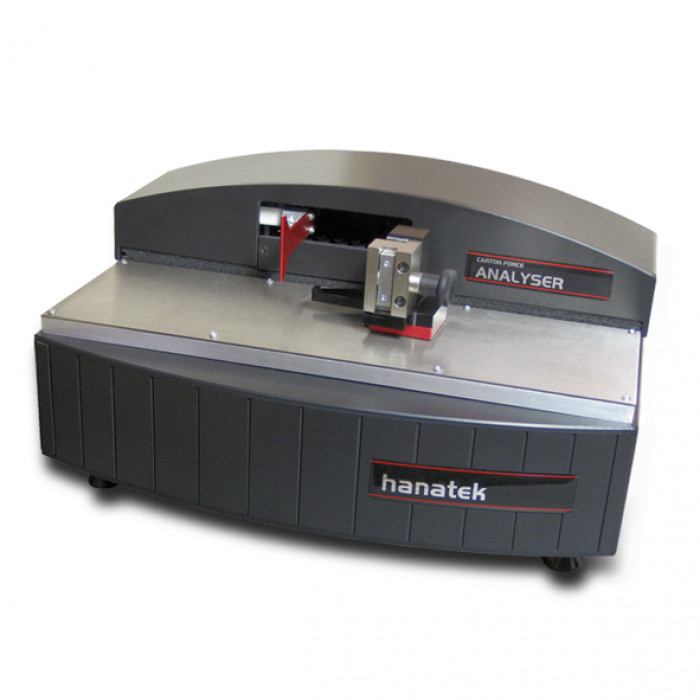 Carton Force Analyser
Article number: 544.000.000
The Carton Force Analyser measures the forces that limit the running speed of folding box board packaging.
By measuring the stiffness of the substrate and crease bending resistance the user can optimise cartons for faster running and packaging speeds.
The instrument allows individual creases to be analysed identifying problem areas in packaging design or manufacture. Industry research indicates that the packaging speeds of pre-glued skillets is governed by the energy required to open creases. The Carton Force Analyser is the first instrument to isolate and accurately measure this key parameter.
This flexible instrument can be configured for quality or research use
Research Tool
Create and save bespoke test methods
Variable sample length, rotation speed and crease angle
Statistical and graphical analysis of results
Quality Assurance
Pre-loaded ISO/BS/TAPPI test methods
Date/operator stamped results
Pre-set pass/fail criteria
Optional password protection
All operations and test methods have comprehensive graphical on-screen help.
Intuitive and easy to use
Easy training for new users
Consistent results for all operators
No need to consult complicated manuals The instrument has pre-loaded test instructions that ensure samples are tested to international standards.
Real time graphs detail the process of folding, showing increased crease resistance until board fibres break and the crease relaxes. The CFA allows these fingerprints to be saved and overlaid, a powerful tool that allows detailed comparison of different crease formats, substrates and manufactured batches.
| | |
| --- | --- |
| Weight: | 11kg |
| Dimensions(L x W x H): | 22cm x 23cm x 30cm |
| Model: | 544.000.000 |
| Standard delivery time: | 6-8 weeks |
If you have any Query or Order?