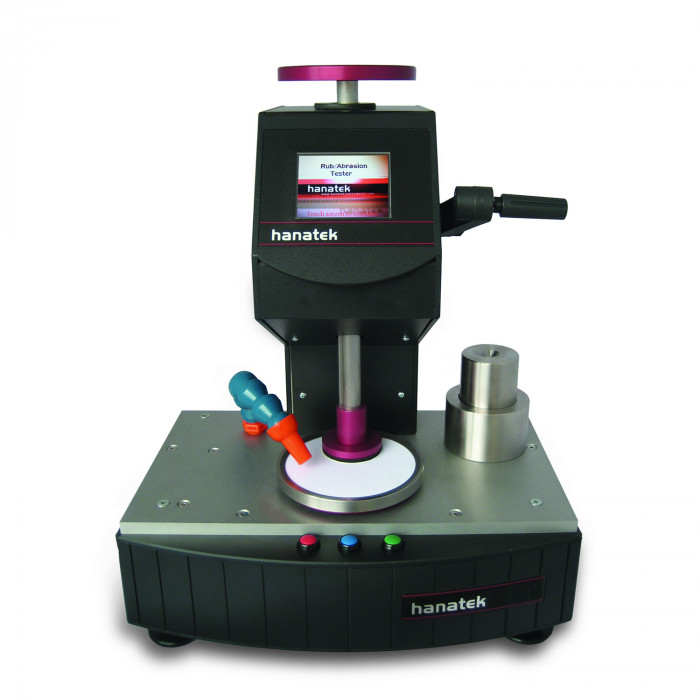 Circular Rubtester RT4
 Article number: 545.000.100
The Circular Rubtester RT4, rub and abrasion tester, is a device to increase the efficiency and repeatability of rub proof testing.
The instrument is used for testing the ink / print, marking and rub resistance of cartons, films and commercial printed material.
It is also used for checking the cure and adhesion of UV inks and coatings.
Choice of measuring heads
The instrument is supplied as standard with the felt measuring head and pad.
This is suitable for the face to face (printed surface to printed surface) method described in BS 3110 and also the printed surface to reference material such a Mellotex.
Alternative measuring heads/pads are available for conducting:
Abrasion test
This test is to check the through cure of coatings and UV varnish. This test will mimic the effect of transportation on printed material.
Wet rub test
This test checks for coating resistance to water/solvent.
Touch screen operated
Intuitive touch screen operation ensures incredibly quick configuration of test parameters.
Automatic abrasion cycles
The cycle time is pre-programmed allowing the test to run unsupervised.
| | |
| --- | --- |
| Weight: | 10kg |
| Dimensions(L x W x H): | 51cm x 45cm x 42cm |
| Model: | 545.000.100 |
| Standard delivery time: | 6-8 weeks |
If you have any Query or Order?