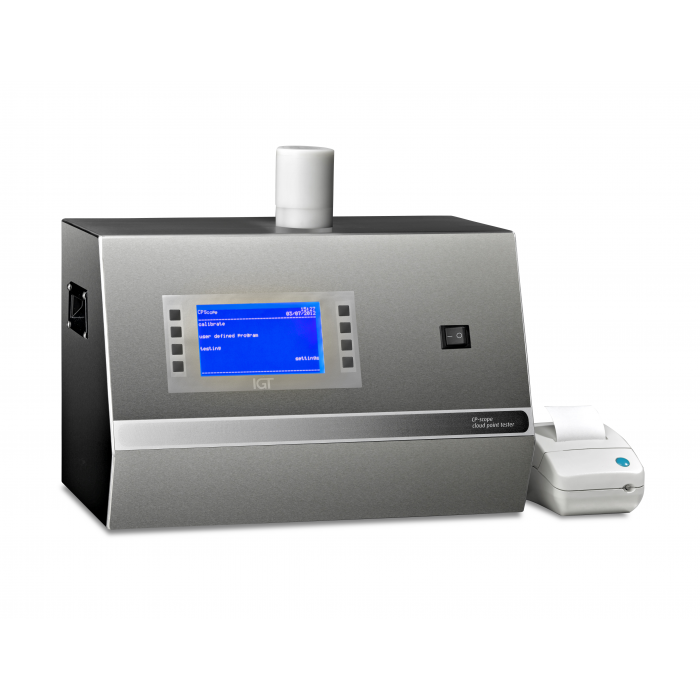 CloudOscope
Article number: 890.000.000
CloudOscope: Instrument to measure the cloudpoint of a resin.
Advanced cloud point tester to determine the cloud point of a resin under exact predefined conditions.
•Wireless temperature sensor
•Stainless steel housing
•User friendly human interface
•External printer option
The CloudOscope is an advanced cloud point tester.
The design has an easy to clean, stainless steel housing, a chemically resistant display, a user-friendly interface and software with several options.
The temperature, stirring speed and the level of cloudiness that has to be measured can be programmed. The temperature is measured with a wireless PT100 sensor.
The CloudOscope has an external printer to print the measuring results.
Optionally there is a possibility to connect the CloudOscope to a computer, dedicated software will give the user the possibility to analyse the measurements.
Fully automated measurement cycle using a wireless PT100 probe
Weight:
20kg
Dimensions(L x W x H):
0cm x 0cm x 0cm
Model:
890.000.000
Main application:
Quality control cloudpoint
Conformance with standards/W-leaflet:
ASTM-D6038-05, Eurocommit method for Cloud Point Testing
Water bath and temperature:
—
Speed range and modes:
—
Forces:
—
Substrate requirements:
—
Interval time and number:
—
Printing shafts type and options:
—
Shaft positioning:
—
Lifting system:
—
Print length and width:
—
Printing discs:
—
Sector positioning:
—
Sector type and options:
—
Doctoring system:
—
Dispensing system:
—
Pre-programmed tests:
Yes
Analysis options:
—
Interfaces:
USB port
Software updates:
Possible
Data export options:
Dedicated USB stick
Additional items:
Stirring magnet
Test tube stand
Cleaning brush
Magnet pickup stick
Accessories:
—
Inks or liquids:
—
Inking speeds:
—
Inking programs:
—
Top rollers:
—
Maintenance:
Yearly. The annual maintenance and calibration of the tester can be carried out by IGT Testing Systems or companies authorized by IGT Testing Systems. Information can be obtained from your supplier or the local agent.
Compatible instruments:
—
Measurement range:
—
Light source/ power/angle:
—
Volume:
2 gram resin and 18 gram testoil
Shelf life:
—
Use life:
—
Description of property:
—
Cleaning:
—
Power Supply Requirements:
115 or 230 VAC, 50
Guarantee:
Standard one year
Space requirements:
—
Standard delivery time:
1-2 weeks
If you have any Query or Order?