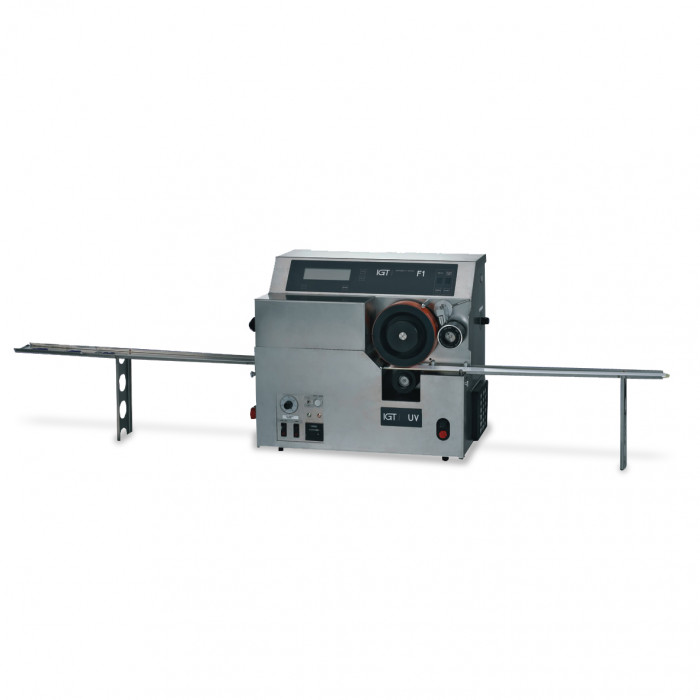 F1-UV
Article number: 439.000.000
F1-UV : Printability tester with an integrated UV curing unit for flexo inks. Can also be used for gravure inks.
The F1-UV has an integrated UV-curing unit, printed strips are immediately cured after printing. The device is equipped with driven anilox roller, this way it is possible to ink the anilox roller independently. The device is equipped with driven anilox roller, this way it is possible to ink the anilox roller independently. The F1 consist of a combined inking unit with a doctor blade and anilox roller and a printing unit with a printing form and impression cylinder. The testers are specially developed to print reproducible strips of substrate with flexographic ink. They can also be used for printing in gravure mode for gravure ink. In that case the removable imprint cylinder is not used.
Weight:
60kg
Dimensions(L x W x H):
0cm x 0cm x 0cm
Model:
439.000.000
Main application:
Testing UV curing flexo inks
gravure inks and substrates
Conformance with standards/W-leaflet:
ISO 2834-2 / ISO 2836 / ISO 2846-3 / ISO 2846-5
Water bath and temperature:
—
Speed range and modes:
Constant: 0.2 – 1.5 m/s
Forces:
Anilox force: 10
Substrate requirements:
flexible and rigid substrates
Interval time and number:
—
Printing shafts type and options:
1 shaft
Shaft positioning:
device driven
Lifting system:
device driven
Print length and width:
max 2 x 200 x 40 mm_
Printing discs:
Chromium plated
copper engraved and ceramic
laser engraved anilox discs
various line rulings and volumes are available
Sector positioning:
device driven
Sector type and options:
Exchangeable 156
Doctoring system:
Doctor blade, 60
Dispensing system:
—
Pre-programmed tests:
The (standard) test methods and conditions are preset in the menu
if desired they can easily be changed by the user.
Analysis options:
Manually
Interfaces:
USB portal
Software updates:
Possible
Data export options:
Possible, importable to each Windows program
Additional items:
495 Lightbooth with 4 lightsources (A
UV
D65
F10)
555.000.060 IGT Glossmeter G60 (60
Accessories:
431.000.439 Gravure set
Inks or liquids:
Flexo (UV) and gravure inks
Inking speeds:
0.2
Inking programs:
Number of doctoring revolutions 0 – 9, Number of revolutions before print 0 – 20
Top rollers:
—
Maintenance:
For average use a service check once a year is recommended. The annual maintenance and calibration of the tester can be carried out by IGT Testing Systems or companies authorized by IGT Testing Systems. Information can be obtained from your supplier or t
Compatible instruments:
421.000.100 F1 Basic High Force Range421.000.200 F1 Basic Low Force Range
Measurement range:
—
Light source/ power/angle:
—
Volume:
—
Shelf life:
—
Use life:
—
Description of property:
—
Cleaning:
Device is equipped with cleaning mode for anilox and printing forme.
Power Supply Requirements:
F1-UV : 115/230V/8AT/50-60 Hz/1250VA
Guarantee:
Standard one year
Space requirements:
0.7 m_
Standard delivery time:
6-8 weeks
If you have any Query or Order?