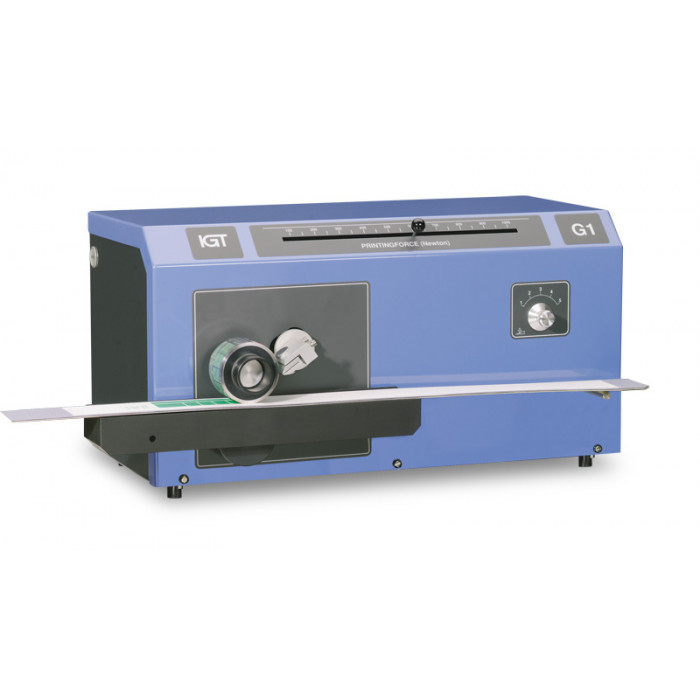 G1-5
Article number: 433.000.000
G1-5: printability tester for gravure prints.
Dedicated tester to produce colour prints of conventional and UV gravure inks.
Available in with print width of 45 mm.
•High reproducibility
•Simple to operate
•Consistent results
World-wide the best printability tester for gravure inks
For gravure inks IGT Testing Systems markets the G1-5 printability testers for various printing widths.
These testers print colour strips with gravure inks which can be used for many purposes. Specially designed for computerized colour measuring and colour matching systems. Saves costs because colour tests on the printing presses are no longer necessary.
APPLICATIONS
The G1-5 printability testers produce colour strips which are suitable for many purposes, such as:
Measuring colour with colour measuring systems/spectrophotometers, colour matching systems
Visual appraisal
Density measurements, including establishing colour and density tolerances and determination of coverage, wear resistance, scratch resistance, flexibility, adhesion and gloss, ink transfer, light fastness and resistance to chemicals
Testing printing quality
The G1-5 testers print many sorts of coated and uncoated materials: paper, board, plastic film, cellophane, laminate, etc.
The G1-5 is used in the following industries:
•printing ink, paper and board, printing
•plastics, labels and packaging
•resins, lacquers and coatings
•raw materials
PROPERTIES
Simple to operate and of sturdy construction for intensive use over a long period; easy and quick to clean
Extensive processing possibilities for various substrates and gravure inks; substrate, ink and printing form simple and quick to change
Excellent reproducibility, high degree of simulation of actual practice.
OPERATION
The G1-5 printability testers consist of an exchangeable engraved printing form which is inked with the aid of a doctor blade, and an impression cylinder. The substrate is attached to a carrier which is placed on the substrate guide, between the impression cylinder and the printing disc. The printing force is applied between the printing disc and the substrate, and at the same time contact is established between the doctor blade and the printing disc. With a pipette, a few drops of ink are applied to the nip between the doctor blade and the printing disc. The printing system is now started, the excess ink is wiped off and the image is printed. The doctor blade and the printing disc are now lifted automatically.
The substrate is removed for appraisal and the doctor blade and the printing disc are removed for cleaning. In gravure printing the print quality depends very much upon the speed, which is therefore adjustable in five steps.
Two prints are automatically made because this fills the engraved cells better with ink. The second print is most suitable for further evaluation.
Makes prints of 45 mm width. Consists of a printing unit with an exchangeable engraved printing form, a doctor blade assembly and an impression cylinder. Printing speed and printing force are adjustable to get the printing results correlating with printing press.
There is also a gravure tester available with a printing width of 70 mm ; the IGT G1-7.
Weight:
35kg
Dimensions(L x W x H):
0cm x 0cm x 0cm
Model:
433.000.000
Main application:
Print substrate with flexo or gravure inks for colour measurement
colour-matching
visual appraisal of print quality
density measurements and measurement of properties such as wear resistance
scratch resistance
fastnesses
mottle etc.
Conformance with standards/W-leaflet:
ISO 2834-2 / ISO 2836 / ISO 2846-3 / ISO 2846-5
Water bath and temperature:
—
Speed range and modes:
Constant: 0.2
Forces:
100
Substrate requirements:
Flexible and rigid substrates
Interval time and number:
—
Printing shafts type and options:
1 shaft
Shaft positioning:
Automatically
Lifting system:
Automatically
Print length and width:
2x 200×40 mm_
Printing discs:
Heliotest disc
gravure disc
Sector positioning:
—
Sector type and options:
—
Doctoring system:
Doctor blade, 60
Dispensing system:
—
Pre-programmed tests:
—
Analysis options:
Off-line with Print Target
Interfaces:
—
Software updates:
—
Data export options:
—
Additional items:
495 Lightbooth with 4 lightsources (A
UV
D65
F10)
555.000.060 IGT Glossmeter G60 (60
Accessories:
450.000.433 Heliotest set for G1-5
Inks or liquids:
Gravure inks
Inking speeds:
—
Inking programs:
—
Top rollers:
—
Maintenance:
Yearly. The annual maintenance and calibration of the tester can be carried out by IGT Testing Systems or companies authorized by IGT Testing Systems. Information can be obtained from your supplier or the local agent.
Compatible instruments:
443.000.000 G1-7
Measurement range:
—
Light source/ power/angle:
—
Volume:
—
Shelf life:
—
Use life:
—
Description of property:
—
Cleaning:
Manually
Power Supply Requirements:
90-230V/1.6AT/160W/50-60 Hz
Guarantee:
Standard one year
Space requirements:
0.7 m_
Standard delivery time:
6-8 weeks
If you have any Query or Order?