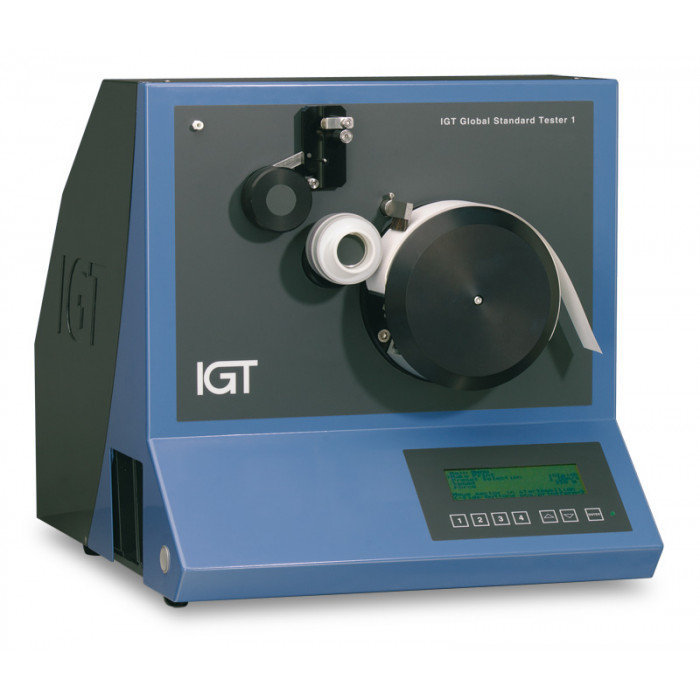 Global Standard Tester 1
Article number: 410.000.000
GST 1: Multi-purpose printability tester with single print shaft.
In addition to the pick test according to the IGT method (ISO 3783, TAPPI T514 and SCAN P 63.90) the Global Standard Tester 1 can be used to carry out a range of other tests.
Standard tests:
• Picking with aluminium printing disc (ISO 3783, TAPPI T514 and SCAN P 63.90)
• Picking using a rubber printing disc
• Toner adherence
• Linting
• Printing penetration
• Roughness
• Felt- or wire-side
• Roughness on rubber blanket
• Possibility for installing a pneumatic metering system for the printing penetration and roughness
• Increasing speed
• Final speed adjustable from 0.5 to 4 m/s
• Printing force adjustable from 100 to 1000 N
• Pneumatic printing force system
• Equipped with one printing shaft
• Printing width maximum 50 mm, printing length 200 mm
• Computer controlled process
• Pre-programmed test conditions
Weight:
80kg
Dimensions(L x W x H):
0cm x 0cm x 0cm
Model:
410.000.000
Main application:
Pick test Toner adhesion
Conformance with standards/W-leaflet:
ISO 3783, TAPPI T514 and SCAN P 63.90,
Water bath and temperature:
—
Speed range and modes:
Accelerating endspeed: 0.5
Forces:
100
Substrate requirements:
Flexible substrates
Interval time and number:
—
Printing shafts type and options:
1 print shaft
Shaft positioning:
Device driven with instrument air of 6 bar
Lifting system:
Automatically
Print length and width:
200 x 50 mm_
Printing discs:
Aluminium
rubber blanket
rubber
discs for specific test
Sector positioning:
Automatically
Sector type and options:
180
Doctoring system:
No
Dispensing system:
Yes
Pre-programmed tests:
IGT Pick test Toner adhesionLintingPrint penetrationRoughness
Analysis options:
—
Interfaces:
—
Software updates:
—
Data export options:
—
Additional items:
466.000.000 High Speed Inking Unit 4
408.000.200 IGT ink Pipette 0.01 ml resolution
408.000.400 IGT ink Pipette 0.001 ml resolution
441.000 Pick Start Viewer PSV
441.000.040 Delamination/Blistering viewer
Inks or liquids:
Pick test oils, pick inks, penetration liquid, roughness liquid,
Inking speeds:
—
Inking programs:
—
Top rollers:
—
Maintenance:
Yearly. The annual maintenance and calibration of the tester can be carried out by IGT Testing Systems or companies authorized by IGT Testing Systems. Information can be obtained from your supplier or the local agent.
Compatible instruments:
415.000.000 Global Standard Tester 1W
710.000.000 AIC2-5T2000
720.000.000 Amsterdam 1
722.000.000 Amsterdam 2
725.000.000 Amsterdam 5
726.000.000 Amsterdam 6
Measurement range:
—
Light source/ power/angle:
—
Volume:
—
Shelf life:
—
Use life:
—
Description of property:
—
Cleaning:
—
Power Supply Requirements:
115/230V/10AT/1000W/50-60 Hz
Guarantee:
Standard one year
Space requirements:
0.7 m_
Standard delivery time:
1-2 weeks
If you have any Query or Order?