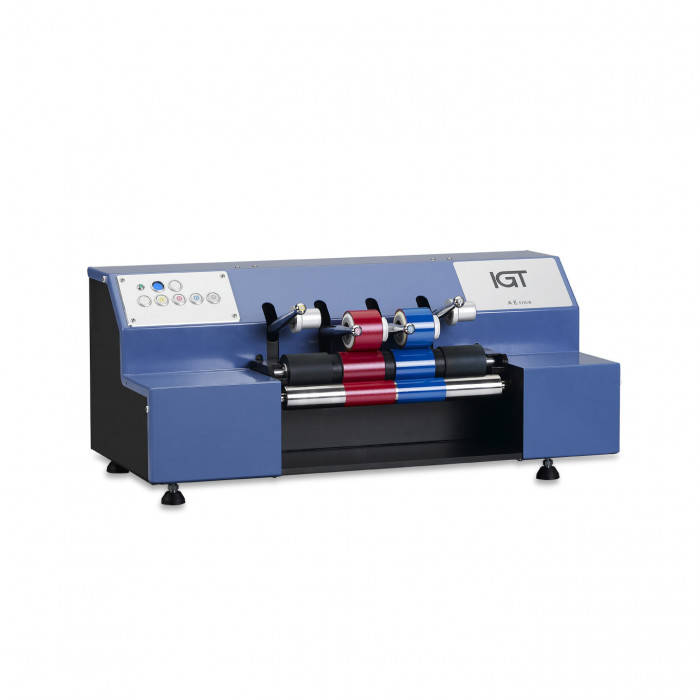 Inking unit AE Four
 Article number: 465.000.000
AE Four: Inking unit used to apply ink films of reproducible and constant layer thickness on the printing discs for the IGT printability testers.
The IGT AE Four is the modern successor of the renowned IGT AE inking unit.
The IGT AE Four is used to apply ink films of reproducible and constant layer thickness on to the printing discs for IGT printability testers. It is possible to distribute up to four different inks at the same time.  These discs can be used on the IGT printability testers AIC2-5 and all versions of the IGT Global Standard Testers as well as the A1-3 and A2-3 types (with use of an adapter).
Applications
• The AE Four inking unit is used to ink printing discs for the following purposes:
• Use with the IGT printability tester AIC2-5
• Use with all types of IGT Global Standard Testers
• Inking with conventional offset inks
• Inking with UV-drying offset inks
• Inking with pick test oils
• Inking up to 4 colours or inks at the same time
Can be used to ink a maximum of 4 printing discs simultaneously.
The AE FOUR does not allow for the temperature control of the roller system and has a simple operator interface using only pushbuttons.
• Inking speed 0,2 – 0,4 or 0,6 m/s.
• Computer controlled process.
• Top rollers available with 1, 2 or 4 sections.
• Printing discs lifted automatically after inking.
• Quick and easy to operate.
• Sturdy construction.
• Supplied with an IGT ink pipette.
• Suitable for printing discs used on IGT AIC2-5 and IGT Global Standard Testers.
Weight:
55kg
Dimensions(L x W x H):
86cm x 38cm x 30cm
Model:
465.000.000
Main application:
Inking device for AIC2-5T2000
GST and Amsterdam
Conformance with standards/W-leaflet:
Yes
Water bath and temperature:
No
Speed range and modes:
0.3 and 0.6 m/s
Forces:
—
Substrate requirements:
—
Interval time and number:
—
Printing shafts type and options:
4 inking shafts
Shaft positioning:
Push buttons
Lifting system:
Push buttons
Print length and width:
—
Printing discs:
Suitable for all IGT printing discs
adaptors are available for older models IGT printability testers
Sector positioning:
—
Sector type and options:
—
Doctoring system:
—
Dispensing system:
—
Pre-programmed tests:
No
Analysis options:
—
Interfaces:
—
Software updates:
—
Data export options:
—
Additional items:
408.000.200 IGT ink Pipette 0.01 ml resolution
408.000.400 IGT ink Pipette 0.001 ml resolution
404.001.024.002 Lint free cleaning towel white – box approx. 9 kg
404.001.024.003 Lint free cleaning towel white – roll approx. 2.5 kg
Accessories:
Adaptors for 34 mm diameter disc hole
when standard shaft of 25 mm are delivered
Inks or liquids:
Inks and liquids
Inking speeds:
0.3 and 0.6 m/s
Inking programs:
—
Top rollers:
Conventional or UV inks, 4, 2 or 1 segment
Maintenance:
For average use a service check once a year is recommended. The annual maintenance and calibration of the tester can be carried out by IGT Testing Systems or companies authorized by IGT Testing Systems. Information can be obtained from your supplier or t
Compatible instruments:
466.000.000 High Speed Inking Unit 4
Measurement range:
—
Light source/ power/angle:
—
Volume:
—
Shelf life:
—
Use life:
—
Description of property:
—
Cleaning:
Manually
Power Supply Requirements:
115-230V/50-60 Hz (5 A slow)
Guarantee:
Standard one year
Space requirements:
0.7 m2
Standard delivery time:
6-8 weeks
If you have any Query or Order?