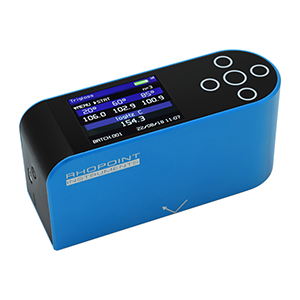 Novo Gloss Trigloss Gloss Meter 20/60/85˚
20/60/85° Gloss meter for matt to mirror finishes
Now features haze measurement to ASTM E430
Full statistical analysis with trend graphs
The Novo-Gloss 20/60/85° gloss meter is designed to meet the measurement criteria for most gloss measuring applications.
Small, lightweight and durable the gloss meter can be used in production and laboratory environments. The high specifications, including statistical analysis, graphical analysis and software-free PC down load facility make it the ideal gloss meter for matt to mirror surface finishes
Measured parameters:
Gloss measurement for all surface finishes:
20⁰ – High gloss
60⁰ – Medium gloss
85⁰ – Low gloss
Haze measurement to ASTM E430
Reflectance haze measurement with compensation mode to provide consistent readings of metallics and speciality pigments
Gloss meter features
Fast measurement, single button push measures all parameters
On-board statistics with graphical trend analysis and reporting.
Automatic calibration with tile validation
Date and time stamped results
Easy Batching – User definable batch names and batch sizes for quicker and more efficient reporting
Software-free data transfer
Direct data input via Bluetooth – instantly transmit measured readings directly to programs such as Microsoft Excel
Auto-ranging, measures matt to mirror finishes
Pass / fail for easy identification of non-conformances
Compatible with all major international standards
Extended two year warranty
Lifetime lightsource guarantee
Gloss meter specifications
GLOSS
60°, 20/60°* and 20/60/85°* versions availiable
| | | |
| --- | --- | --- |
| 20° | | Improved accuracy and resolution on high gloss & metallic samples (>70GU when measured at 60°) |
| | | |
| 60° | | Universal angle – all gloss levels |
| | | |
| 85° | | Improved resolution for matt finishes ( |
Resolution 0.1GU • Repeatability ±0.2GU • Reproducibility ±0.5GU
Resolution 0.1GU • Repeatability ±0.2% • Reproducibility ±0.5%
Measurement range:
20º: 0-2000GU
60º: 0-1000GU
85º: 0-199GU
Standards:
ISO 2813, ISO 7668
ASTM D523, ASTM D2457
DIN 67530
JIS 8741, JIS K 5600-4-7
*Verified performance on 20° angle for 20/60/85°
INSTRUMENT SPECIFICATIONS
Operation
Full colour easy to read screen
Adjustable brightness6 button touch sensitive interface
Construction
Integrated calibration holder with in-position detector for
error free calibration
Measurement
Single button push to measure all parameters
Fast measurement
Results batching with user definable names
Statistical Analysis
Graphical Analysis
On board trend analysis
Gloss values
Power
Rechargeable lithium ion
17+ hours operation
10,000+ readings per charge
Memory
8MB= >2000 readings
User defineable alphanumeric batching
Data Transfer
Bluetooth
PC compatible
USB connection, no software install required
Measurement Area
20°: 6mm x 6.4mm
60°: 6mm x 12mm
85°: 4.4mm x 44mm
Operating Temperature: 15 – 40 ° C (60 – 104 ° F)
Humidity: Up to 85%, non condensing
Dimensions & Weight
65mm x 140mm x 50mm (H x W x D)
60º & 20/60º = 390g, 20/60/85º = 530g
Packed weight: 1.6kg
Packed dimensions: 110mm x 280mm x 220mm (H x W x D)
Commodity code: 9027 5000
If you have any Query or Order?