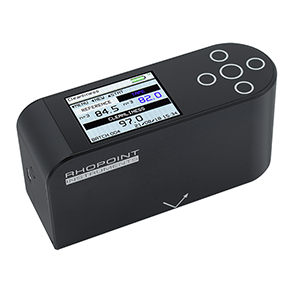 Novo-Shade Duo + Reflectometer
Measure opacity (hiding power)
Measures shade on grayscale
Suitable for measuring coatings or plastic films
The Novo-Shade Duo + combines 3 measuring instruments in one: Opacity meter, shade meter and cleanliness meter
Opacity
This is used for measuring the hiding power of a coating or plastic film
Shade
Measure the shade of surface on a greyscale
Cleanliness
Measure the substrate cleanliness or oxidisation of a surface
Features:
Measures using the 0/45º geometry
Fast measurement, single button push initiates measures of defined parameters
Shade measurement displayed instantly on screen
Automatic calculation of opacity and cleanliness
On-board statistical analysis with graphical trend analysis (graphs available in shade mode only)
Direct data input via Bluetooth – instantly transmit measured readings directly to programs such as Microsoft Excel
Date and time stamped results
Automatic calibration with tile validation
Compatible with all major international standards
Reflectometer Specifications
Statistical Analysis
Graphical Analysis
Power
Rechargeable lithium ion
17+ hours operation
20,000+ readings per charge
Recharge Time
Standards
ISO 2814, 6504, BS 3900-D4, D7, ASTM E97, E1347, D4214
ASTM D2805, D589
Memory
8 MB = 999 readings
User definable alphanumeric batching
Data Transfer
Bluetooth
PC compatible
USB connection, no software installation required
Performance
Resolution 0.1
Repeatability 0.2%
Reproduceability 0.5%
Measurement area: 15mm x 10mm elipse
Operating temperature 15 – 40° C (60 – 104° F)
Humidity up to 85%, non condensing
Dimensions & Weights
65mm x 140mm x 50mm (H x W x D)
790g
Packed weight: 1.75kg
Packed dimensions: 180mm x 330mm x 280mm (H x W x D)
Measurement spot size: 15x10mm elipse
Commodity code: 9027 5000
Included Accessories
Calibration tile with certificate
USB data cable
Mini CD containing:
Instruction manual
Bluetooth data app
Example Excel spreadsheets
Instructional videos
Extras
FREE EXTENDED WARRANTY
Register for a two year comprehensive guarantee.
FREE LIGHT SOURCE WARRANTY
Guaranteed for the life of the instrument.
CALIBRATION AND SERVICE
Fast and economical service via our global network of accredited calibration and service centres, please visit www.rhopointinstruments.com/support for detailed information.
Measurement Units
Shade mode
0 = black – no reflectance
100 = brilliant white – full reflectance
Opacity mode
0 = completely transparent
100 = fully opaque
Cleanliness mode
0 = No change
100 = Maximum change
If you have any Query or Order?