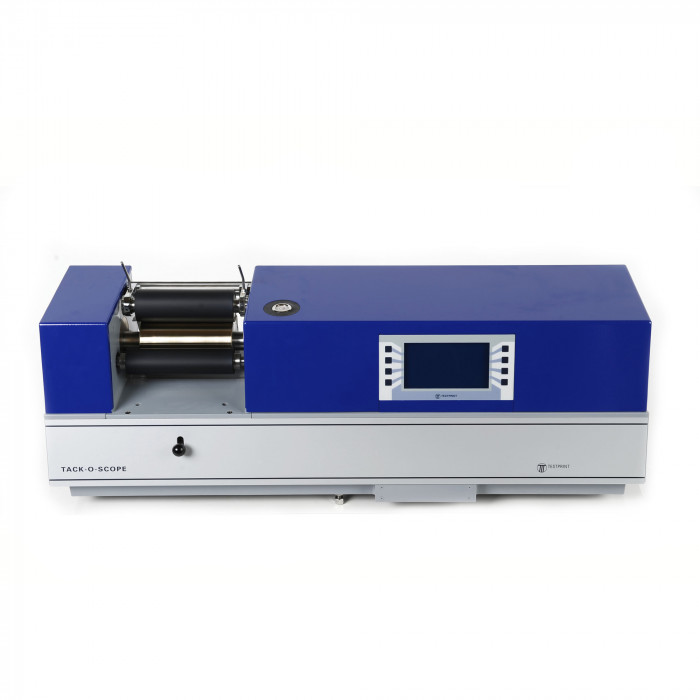 TackOscope-1 improved
Article number: 830.000.000
TackOscope improved: Instrument to measure the tackiness of a paste ink or varnish.Only applicable if the customer is returning an existing TackOscope.
Please contact IGT or your local representative for more information.
Can be produced in the models S, SC, W and WC
Weight:
50kg
Dimensions(L x W x H):
0cm x 0cm x 0cm
Model:
830.000.000
Main application:
research and quality control
tack
Conformance with standards/W-leaflet:
ASTM-D4361, ISO12634
Water bath and temperature:
option
Speed range and modes:
20
Forces:
0-600 Tack units
Substrate requirements:
—
Interval time and number:
—
Printing shafts type and options:
—
Shaft positioning:
—
Lifting system:
Manually
Print length and width:
—
Printing discs:
—
Sector positioning:
—
Sector type and options:
—
Doctoring system:
—
Dispensing system:
ink pipet
Pre-programmed tests:
no
Analysis options:
Option, Tack Monitor
Interfaces:
USB port
Software updates:
Possible
Data export options:
—
Additional items:
UV measuring and distribution roller
calibration set
Inks or liquids:
Most solvent based inks, some water based inks, varnishes, some adhesives
Inking speeds:
—
Inking programs:
—
Top rollers:
Rubber for conventional inks rubber for UV-inks
Maintenance:
Yearly. The annual maintenance and calibration of the tester can be carried out by IGT Testing Systems or companies authorized by IGT Testing Systems. Information can be obtained from your supplier or the local agent.
Compatible instruments:
TackOscope-3 SC
TackOscope-3 LC
TackOscope-2
partly TT450
Measurement range:
0-600 Tack units
Light source/ power/angle:
—
Volume:
0,4 cm_
Shelf life:
—
Use life:
—
Description of property:
—
Cleaning:
with Starwash and Ethanol
Power Supply Requirements:
115 or 230 VAC, 50
Guarantee:
Standard one year
Space requirements:
0.7 m_
Standard delivery time:
1-2 weeks
If you have any Query or Order?