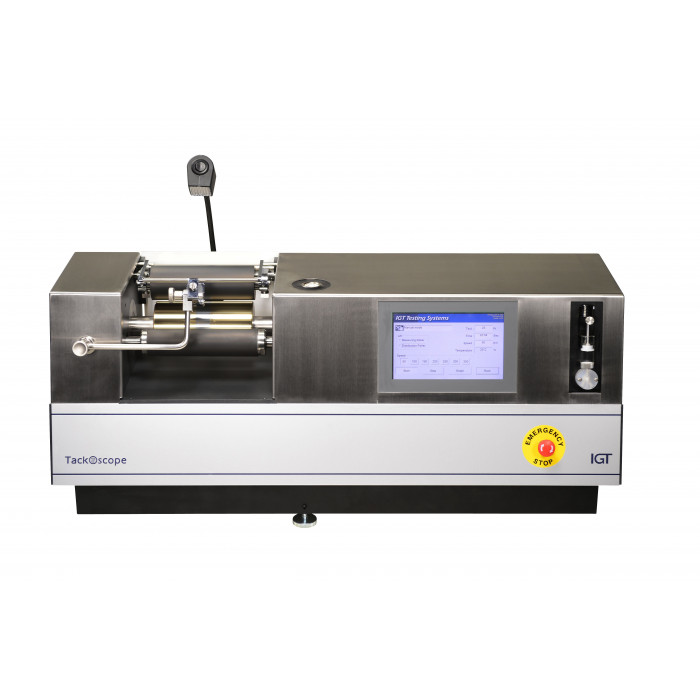 TackOscope-3 model SC
 Article number: 845.000.200
TackOscope-3 model SC: to measure the tack of a paste ink or varnish.
Ink manufacturers, printers and suppliers of raw materials have to meet high quality standards, to ensure the quality of ink in a production and R & D environment. It is important to use an instrument that measures the tack of an ink in a quick and efficient way. High accuracy, low maintenance and simple operation ensure consistent results.
Applications
The IGT TackOscope measures the tack of ink and produces reproducible tack values. The Tack Tester uses a dedicated measuring system to measure the tack values of inks. Because of this system, measurements have become far more reliable and consistent than ever before.
Tack values are used by ink manufacturers to ensure the quality of the inks that are supplied to the graphic arts industry. For research the TackOscope is used to develop new inks. Suppliers of raw materials can ensure the quality of their products before these are supplied to their customers.
Because of the high repeatability and reproducibility of the tack values measured by the IGT TackOscope, it is an excellent instrument for use by many companies that operate on an international level. Tack values can be reliably exchanged between facilities to ensure a homogeneous quality throughout the world.
Compared to the TackOscope II the biggest changes are the build in computer and thermostatic waterbath. Besides this the TackOscope III has an automated roller lifting system on the measuring and distribution roller.
With these new features the repeatability and reproducibility have been improved and a fully automated operation is made possible.
Fully automated measurement using autolift function on measuring and distribution roller, integrated computer for data recording and analysis.
Applications
• Absolute tack
• Tack stability
• Fount/ink compatibility (LC model only)
• Opening offset plate (LC model only)
• Misting
Properties
The TackOscope III is foreseen with:
• Touch screen operation
• Internal computer
• Internal thermostatic water bath
• Autolift system on the measuring- and distribution roller
• Automated measuring system
• Quick release mechanism for both measuring and distribution roller
• Readout in Tack and/or Newton/m
• Optionally built-in LithOscope feature  (TackOscope III LC)
.
Technical data
There are 2 different models available:
TackOscope III model SC – computerised model
TackOscope III model LC – as model SC but with built in LithOscope function
Specifications
Testing speeds  : accurate speed control 0 – 350 m/min
Tack range  : accurate tack measurement from 0 – 600 tack
Electrical connection:
110-115 or 230-350 V / 50-60 Hz
Dimensions (HxWxD):
330 x 800 x 300 mm
Weight:
71kg
Dimensions(L x W x H):
33cm x 80cm x 30cm
Model:
845.000.200
Main application:
Research and quality control
tack
Conformance with standards/W-leaflet:
ASTM-D4361, ISO12634
Water bath and temperature:
internal water bath, 20
Speed range and modes:
50
Forces:
0-600 Tack units
Substrate requirements:
—
Interval time and number:
—
Printing shafts type and options:
—
Shaft positioning:
—
Lifting system:
Automatically
Print length and width:
—
Printing discs:
—
Sector positioning:
—
Sector type and options:
—
Doctoring system:
—
Dispensing system:
Ink Pipette
Pre-programmed tests:
Yes
Analysis options:
Tack Monitor SW
Interfaces:
USB
Software updates:
USB
Data export options:
USB, csv file
Additional items:
840.9002.000 Measuring roller for UV inks
800.103 Distribution roller for UV inks
840.2000.000 Calibration set
Accessories:
—
Inks or liquids:
Most solvent based inks, some water based inks, varnishes, some adhesives
Inking speeds:
—
Inking programs:
—
Top rollers:
Rubber for conventional inks, rubber for UV-inks
Maintenance:
Yearly. The annual maintenance and calibration of the tester can be carried out by IGT Testing Systems or companies authorized by IGT Testing Systems. Information can be obtained from your supplier or the local agent.
Compatible instruments:
845.000.400 TackOscope-3 LC
830.000.200 TackOscope-1 improved
840.000.000 TackOscope-2
810.000.000 TackTester 450
Measurement range:
0-600 Tack units
Light source/ power/angle:
—
Volume:
0,4 cm_
Shelf life:
—
Use life:
—
Description of property:
—
Cleaning:
Starwash and Ethanol, or ink-system dependent
Power Supply Requirements:
115 or 230 VAC, 50
Guarantee:
Standard one year
Space requirements:
0.7 m_
Standard delivery time:
1-2 weeks
If you have any Query or Order?